Caring for Horses since 1997
We are proud to announce that next year we will be celebrating 15 years of successfully rescuing, rehabilitating and adopting out 120 horses/ponies and another 70 through our "Other Horses" page.  This would not have been possible without the unwavering perseverance of the many faithful volunteers that devoted so much of their time and effort over the years.  The story of our journey started
here
.
The faith and generosity of so many wonderful donors over the years has also helped us to continue on with our most important task - rescuing horses from abuse and/or neglect!  One of our supporters from Twitter who lives in Toronto has set up a fundraising goal for us with a Canada Helps Giving Page. If you are considering making a donation, you can simply click here to help us accomplish this goal.
Over the past 15 years, we've made some wonderful memories to share with you.  As we enter our 15th year, we do so with a vision of finding our "Forever Home".  We are exploring and assessing our "dream". We appreciate your continued support to carry on for another 15 years.  To follow our journey, please sign-up here for updates and newsletters.  Thank you!
V olunteer P rofile, Ellen Buckle
I walked across the pasture and through the snow to the green barn behind my house to feed "Carson", my gorgeous Bay Thoroughbred [pic by Lucy Melanson].  Carson was the very first horse I assessed as a new member with Circle F's Horse Team.  We drove out to the farm where he w as being boarded and spent a long while chatting with his young owner, who was devastated to be giving him up.  He had suffered an injury that had ended his jumping career and circumstances were such that she was no longer able to care for him. Fast forward 9 months...9 months of Saturday morning shifts at the barn, shoveling, picking hooves, grooming and riding; gradually falling in love with this big, gentle boy.  One morning following my shift I realized that I couldn't stand the thought of anyone else adopting him, and for the first time since childhood, I had my horse in my backyard!  When I began volunteering at Circle F, I had no idea where it would lead.  I had wanted some "horse time" so I did a bit of research and gave Walter Paetkau, a call.  Little did I know that a simple phone call would result in owning my own horse!
Roughly a year ago, I also brought "Moxie", retired barn cat/master mouser, home with me. He's settled in quite nicely and when I see him hunting in Carson's pasture, I often wonder if he and Carson remember each other.
I've been with Circle F for about 3 years and I now serve on the Board of Directors, am a member of the Horse Team and recently joined the Health Team.  I'm proud to be a part of such a wonderful organization and thrilled with where that simple phone call has led.
Circle F Barn Cats

T his is our newest barn cat who we have named Callie;  a calico who found us in October - check out those lips!  As of November, she is up to date on all her vaccines, is dewormed & spayed.  She's ready for adoption!

Volunteers - Contact Lisa with cat concerns & notify her when cat food low by calling/texting her cell.  Thank you.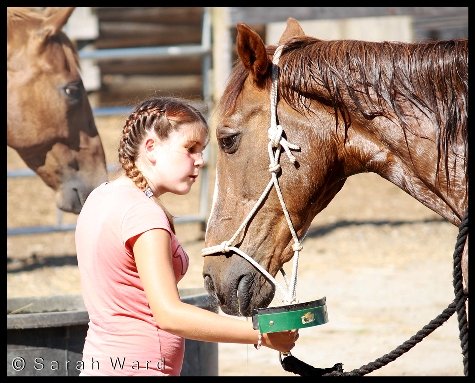 R emembering B rock
crossed over the rainbow bridge on January 13, 2011
Walter remembers Marilyn, who donated Brock to us,  was a student at the time and could no longer afford a horse.  She was boarding Brock at a stable in Richmond.  Walter rode Brock in the ring, his head was high & he pranced around the ring in fine metal, eager for a run.  He joined the herd at our Starr Rd. location & was at first rather fascinated with the fallow deer across the fence watching  their movements for  some time, head alert.  When we moved to the Lefeuvre Rd. property a short distance away, Walter rode him for the first three years. He loved to take a lead when on trails & jigged when held back.